Additive Manufacturing and Selective Laser Melting
Additive manufacturing encompases a variety of processes to build, however, they are all based on the same principle of adding material to create opposed to traditional methods that subtract material. Specifically in selective laser melting:
A layer of metal powder is spread onto a substrate plate
The laser selectively melts the powder to create the first layer of the build
A fresh layer of metal powder is evenly distributed over the build surface
The lasers melt each successive layer to the layers underneath until the desired component is produced
Data taken directly from digital CAD files is converted into individual vectors which the laser will traverse during each layer's exposure. Unlike laser sintering, selective laser melting completely melts each layer into the previous for completely dense metal parts. Compared to traditional manufacturing methods, additive manufacturing enables parts with complex geometric shapes and hollow structures to be produced and is used in several industries such as aerospace, automotive, energy, tooling, healthcare, as well as research and development.

Why Metal Additive Manufacturing?
3D printing metal has become a cost-effective manufacturing alternative for countless applications across a variety of major industries. SLM Solutions takes a vested interest in your company's long-term success with metal AM, providing support and knowledge-sharing that elevates use of the technology to the next level. Choosing the right technology is critical, but forging partnerships with the right AM provider is the fastest path to success. Partner with SLM Solutions.
For more resources on planning a holistic approach to implementing metal additive manufacturing check out our white paper, Making the Case for Building an Additive Manufacturing Team.
Real World Success Stories
Here are some additively manufactured parts in production, each offering different technical advantages to strengthen their competitive position.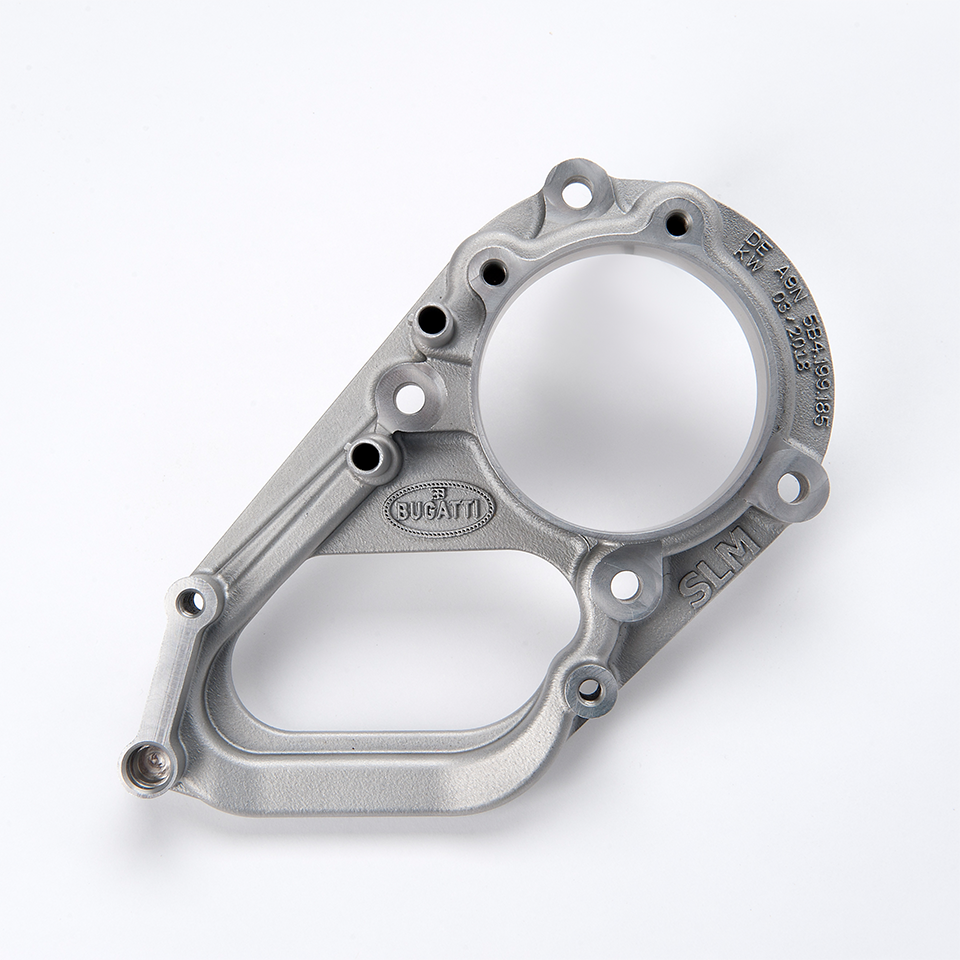 Bugatti Active Heat Shield
Machine: SLM®280 Twin
Material: AlSi10Mg
Layer Thickness: 60µm
Build Time: 4 hr 4m per Unit
Installed in all vehicles since the delivery of the first Bugatti Chiron from the production facility in Molsheim. This part provides integrated water-cooling channels to serve as an active heat shield to the motor's electric pump. The complex geometry was produced at lower costs than with traditional methods.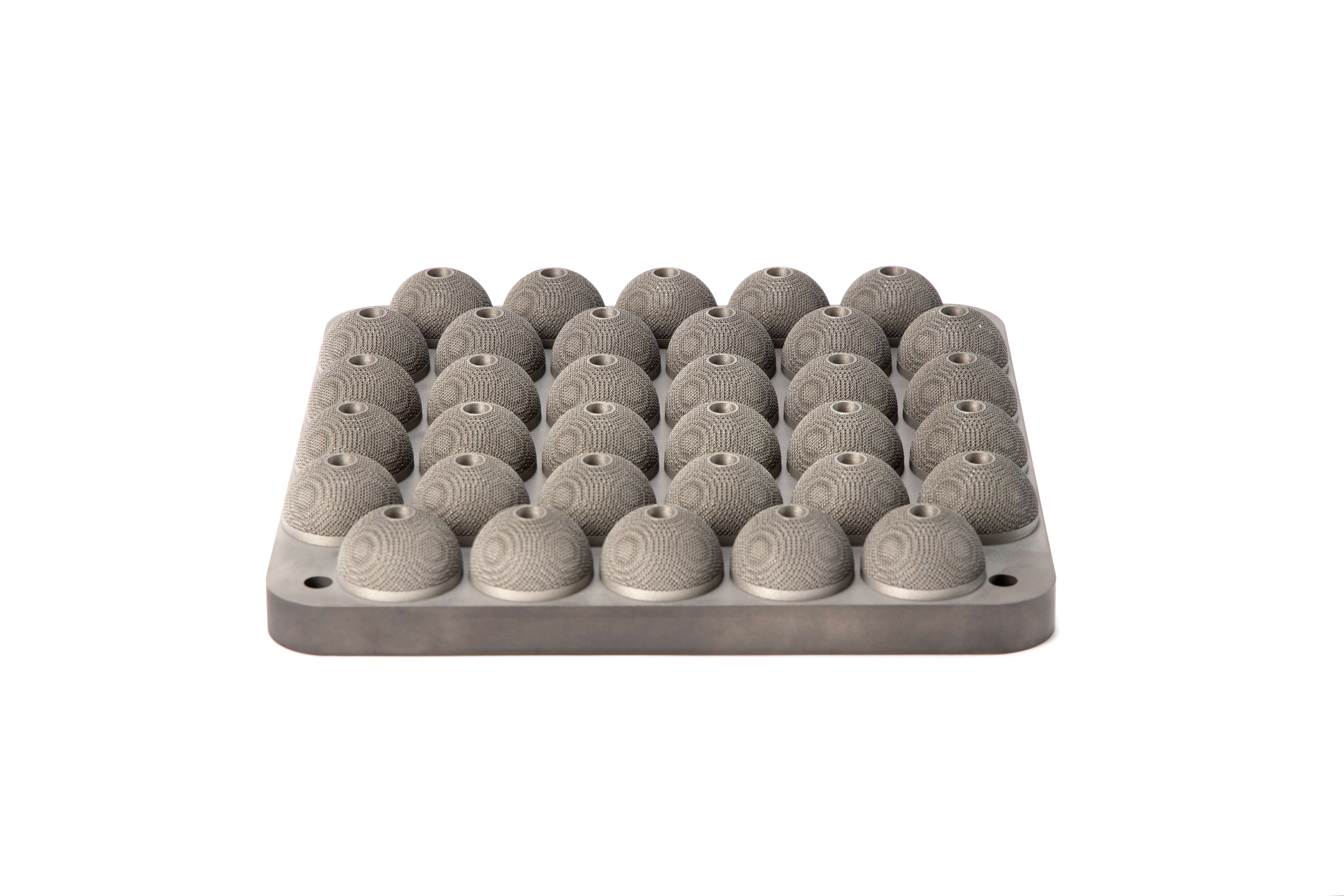 Acetabular Cups With Integrated Lattice Structure
Machine SLM®280
Material: Ti6Al4V
Layer Thickness: 60µm
Build Time: 15h (Maximized Build Chamber, 34 Units)
Selective laser melting machines are able to achieve the fine details needed across the geometry of the acetabular cups to create osseointegration, the optimal connection between the implant and the bone through bone ingrowth of the cup's porous exterior. Up to 34 acetabular cups (Ø44m) can be placed on the SLM®280 build plate which means only 30 minutes of build time per part. SLM® systems enable the user to control the design and manufacture of the lattice struts in terms of shape, size, orientation and spacing, a level of control unmatched by traditional plasma spray coating processes.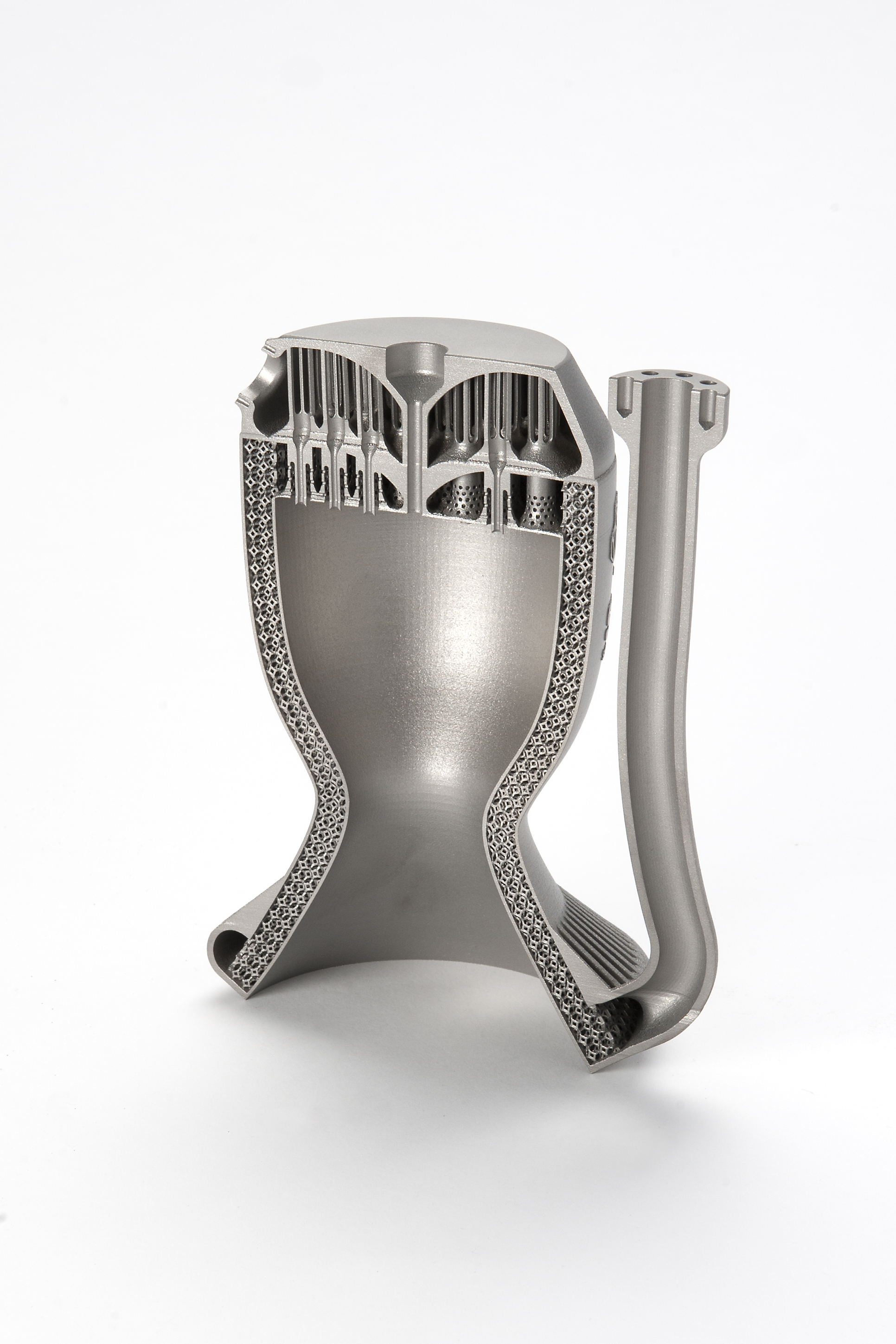 Monolithic Thrust Chamber - Cell Core GmbH
Machine: SLM®280
Material: IN718
Layer Thickness: 30µm
Build Time: 3d 5h 34 m (Maximized Build Chamber, 1 Unit)
CellCore GmbH's monolithic thrust chamber takes advantage of additive manufacturing's benefits by integrating multiple parts and internal features. Combining individual parts into single components makes the thrust chamber highly efficient and minimizes individual process steps. CellCore GmbH was also able to improve functional cooling due to an innovative lattice structure which also increases the thrust chamber's stability. Through selective laser melting the production time was reduced from months to days.
Getting Started with Additive Manufacturing
Metal 3D printing technology offers many benefits for complex metal part production. Here is an overview of the most important aspects to consider before investing.