SLM Solutions and MAHLE Strengthen Their Cooperation, Furthering the Push of Additive Manufacturing into Automotive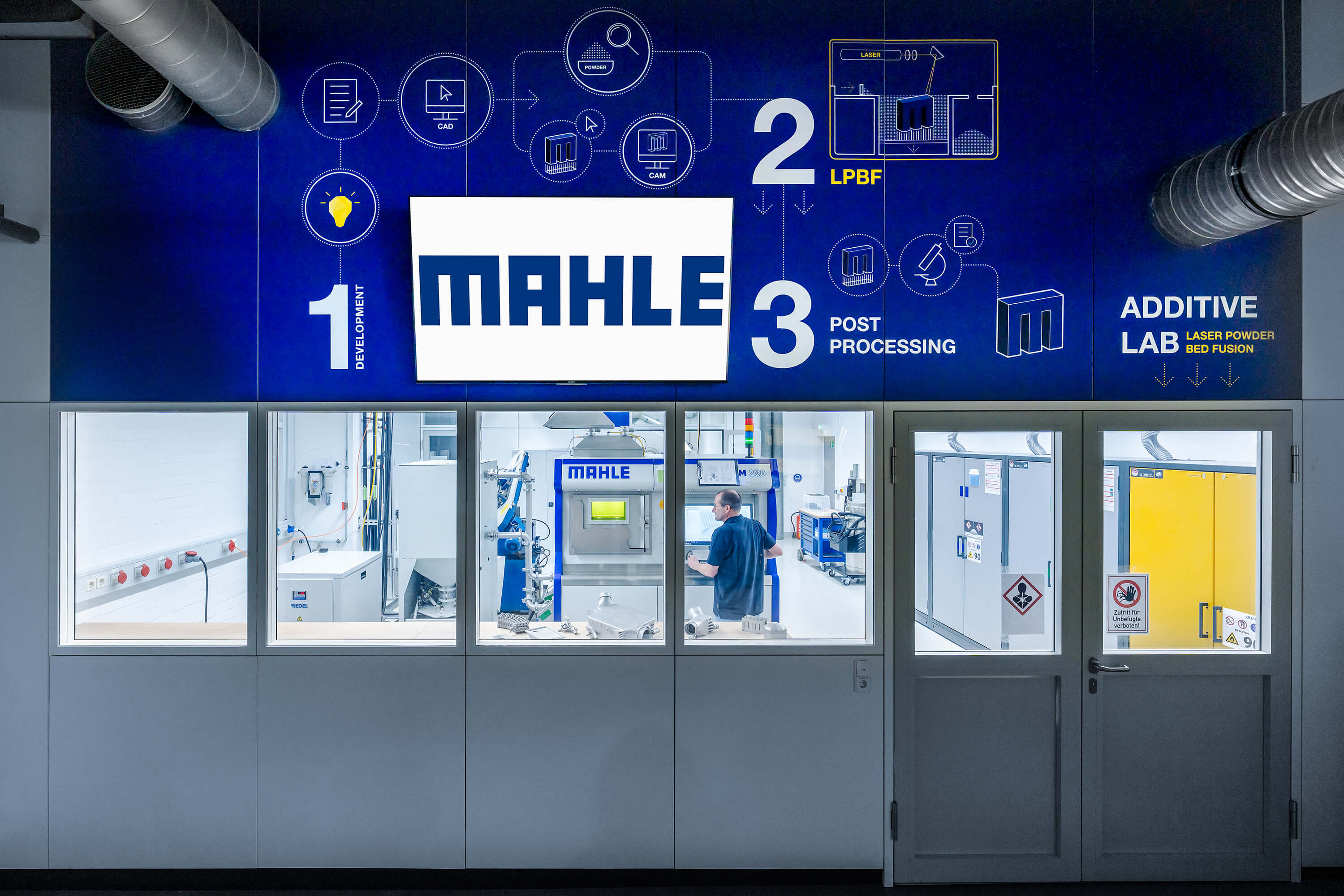 SLM Solutions is proud to collaborate with MAHLE, an international development partner and supplier to the automotive industry and a technology driver for future mobility.
The collaboration formalizes the existing cooperation between the two companies and will enable OEMs and Tier 1 suppliers to utilize metal Additive Manufacturing in serial production.

Together, they are accelerating the development of high-quality, climate-neutral drive technologies by cutting down production time and eliminating the need for complex tools and processes.

More than 120

SLM®

machines for automotive applications are already running globally at OEMs and Tier suppliers.
Lübeck, Germany. 16 December 2021. SLM Solutions is excited to announce its cooperation with MAHLE, one of the world's leading automotive suppliers and development partners from Stuttgart, Germany. MAHLE will utilize SLM Solution's systems to empower OEMs and Tier 1 suppliers to fulfill their need for metal Additive Manufacturing in serial production. By joining forces, the two companies are improving the speed and quality of automotive components in both prototype and serial production.
The components will be printed with aluminum and stainless-steel alloys, which are remarkably resilient, corrosion resistant, and topology optimized to reduce overall weight. Structures that are too complex for conventional manufacturing methods are easily produced while still adhering to the strict quality standards of the automotive industry.
"3D printing for mobility just makes sense," comments Sam O'Leary, CEO of SLM Solutions. "Our cooperation with MAHLE revolutionizes the production of automotive components by making them better, stronger, and lighter, not to mention more climate-neutral."
MAHLE's strategic 3D printing center in Stuttgart will play a crucial part in strengthening its role as the leading development partner for OEMs by revolutionizing the pace of prototype production. The new center will reduce production time from several months to just a few days, thereby simultaneously accelerating the drive towards climate-neutral mobility. The focus will rest primarily on components from the fields of thermal management, mechatronics, and electronics.
"The development of new systems and components has to be much faster today than it was a few years ago, especially when it comes to solutions for sustainable CO2-neutral drive systems," says Michael Frick, Chairman of the MAHLE Management Board (ad interim) and CFO. "With our new 3D printing center and SLM Solutions as a technology partner, MAHLE is once again stepping up the pace in its strategic fields, for example, E-mobility."
This collaboration formalizes the existing cooperation between the two companies. Around the world, an estimated 120 SLM Solutions systems for automotive applications are already running at OEMs and Tier 1 suppliers. A dedicated Application Engineer from SLM Solutions will support MAHLE at every step of the journey, from prototyping to series production and the production of manufacturing equipment.
About Mahle Group: MAHLE is a leading international development partner and supplier to the automotive industry. The technology group is now broadly positioned in the areas of powertrain technology and thermal management with a clear focus on future topics relating to mobility. As part of its dual strategy, MAHLE is working both on the intelligent combustion engine for the use of hydrogen and other no fossil fuels and on technologies that will help the fuel cell and e-mobility achieve broad acceptance in the markets. The product portfolio of the company, which was founded in 1920, addresses all the crucial aspects of the powertrain and air conditioning technology. Half of all vehicles in the world now contain MAHLE components. #weshapefuturemobility
In 2020, MAHLE generated sales of approximately EUR 9.8 billion and is represented in over 30 countries with more than 72,000 employees in 160 production locations and 12 major research and development centers. (Last revised: 2020-12-31)
About SLM Solutions: SLM Solutions is an integrated solutions provider and metal additive manufacturing partner. The company takes a vested interest in customers' long-term success with metal additive manufacturing. Robust Selective Laser Melting machines optimize fast, reliable and cost-efficient part production and SLM Solutions' experts work with customers at each stage of the process to provide support that elevates the use of the technology and ensures their return on investment is maximized. A publicly traded company, SLM Solutions Group AG is headquartered in Germany, with offices in Canada, China, France, India, Italy, Russia, Singapore, and the United States.