SLM Solutions Group AG: Personnel change in the executive board of SLM Solutions Group AG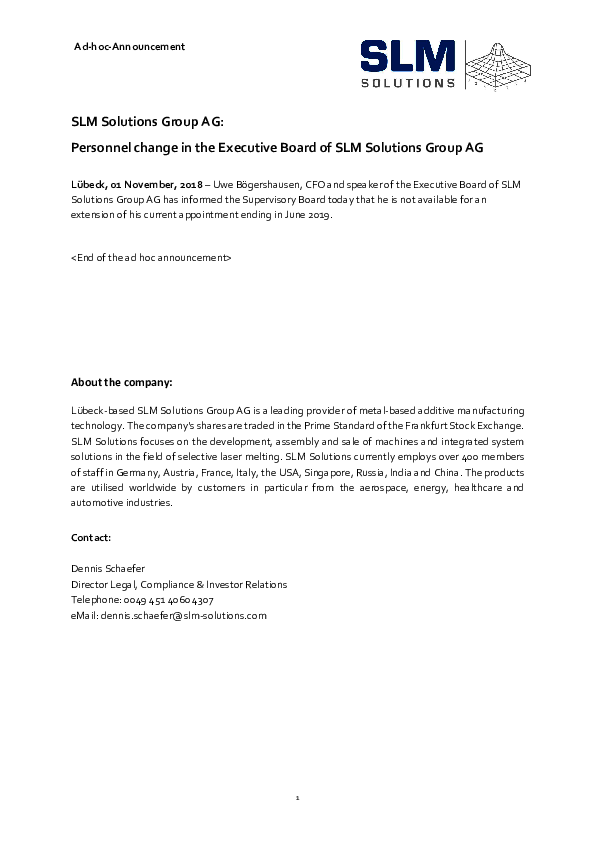 Lübeck, 01 November, 2018 – Uwe Bögershausen, CFO and speaker of the Executive Board of SLM Solutions Group AG has informed the Supervisory Board today that he is not available for an extension of his current appointment ending in June 2019.
<End of the ad hoc announcement>
About the Company:
Lübeck-based SLM Solutions Group AG is a leading provider of metal-based additive manufacturing technology. The company's shares are traded in the Prime Standard of the Frankfurt Stock Exchange. SLM Solutions focuses on the development, assembly and sale of machines and integrated system solutions in the field of selective laser melting. SLM Solutions currently employs over 400 members of staff in Germany, Austria, France, Italy, the USA, Singapore, Russia, India and China. The products are utilised worldwide by customers in particular from the aerospace, energy, healthcare and automotive industries.