SLM Solutions: New order intake in H1 2014 underpins positive expectations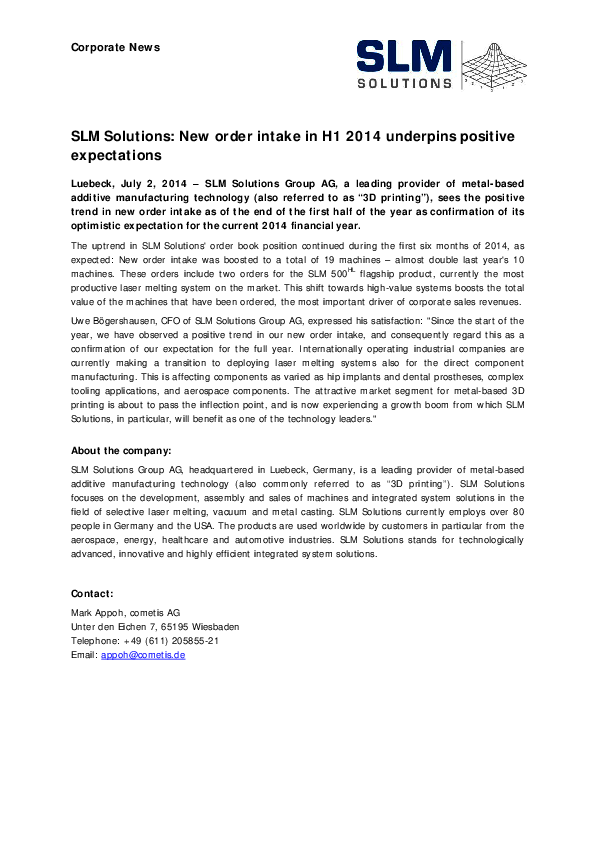 Luebeck, Germany, July 2, 2014 – SLM Solutions Group AG, a leading provider of metal-based additive manufacturing technology (also referred to as "3D printing"), sees the positive trend in new order intake as of the end of the first half of the year as confirmation of its optimistic expectation for the current 2014 financial year.
The uptrend in SLM Solutions' order book position continued during the first six months of 2014, as expected: New order intake was boosted to a total of 19 machines – almost double last year's 10 machines. These orders include two orders for the SLM 500HL flagship product, currently the most productive laser melting system on the market. This shift towards high-value systems boosts the total value of the machines that have been ordered, the most important driver of corporate sales revenues.
Uwe Bögershausen, CFO of SLM Solutions Group AG, expressed his satisfaction: "Since the start of the year, we have observed a positive trend in our new order intake, and consequently regard this as a confirmation of our expectation for the full year. Internationally operating industrial companies are currently making a transition to deploying laser melting systems also for the direct component manufacturing. This is affecting components as varied as hip implants and dental prostheses, complex tooling applications, and aerospace components. The attractive market segment for metal-based 3D printing is about to pass the inflection point, and is now experiencing a growth boom from which SLM Solutions, in particular, will benefit as one of the technology leaders."
About the company
SLM Solutions Group AG, headquartered in Luebeck, Germany, is a leading provider of metal-based additive manufacturing technology (also commonly referred to as "3D printing"). SLM Solutions focuses on the development, assembly and sales of machines and integrated system solutions in the field of selective laser melting, vacuum and metal casting. SLM Solutions currently employs over 80 people in Germany and the USA. The products are used worldwide by customers in particular from the aerospace, energy, healthcare and automotive industries. SLM Solutions stands for technologically advanced, innovative and highly efficient integrated system solutions.