SLM Solutions plans IPO in 2014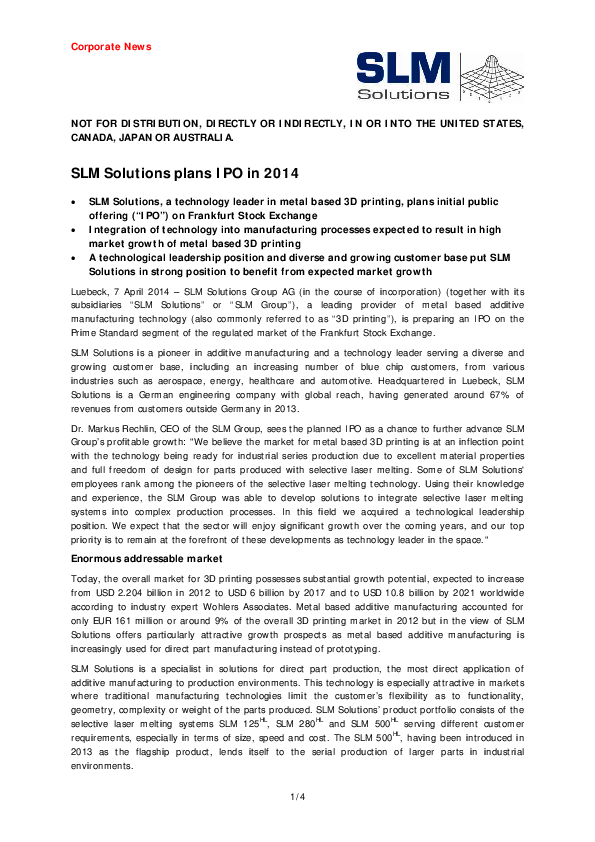 Lübeck, Germany, April 7, 2014 – SLM Solutions Group AG (in the course of incorporation) (together with its subsidiaries "SLM Solutions" or "SLM Group"), a leading provider of metal based additive manufacturing technology (also commonly referred to as "3D printing"), is preparing an IPO on the Prime Standard segment of the regulated market of the Frankfurt Stock Exchange.
SLM Solutions, a technology leader in metal based 3D printing, plans initial public offering ("IPO") on Frankfurt Stock Exchange

Integration of technology into manufacturing processes expected to result in high market growth of metal based 3D printing

A technological leadership position and diverse and growing customer base put SLM Solutions in strong position to benefit from expected market growth
SLM Solutions is a pioneer in additive manufacturing and a technology leader serving a diverse and growing customer base, including an increasing number of blue chip customers, from various industries such as aerospace, energy, healthcare and automotive. Headquartered in Luebeck, SLM Solutions is a German engineering company with global reach, having generated around 67% of revenues from customers outside Germany in 2013.
Dr. Markus Rechlin, CEO of the SLM Group, sees the planned IPO as a chance to further advance SLM Group's profitable growth: "We believe the market for metal based 3D printing is at an inflection point with the technology being ready for industrial series production due to excellent material properties and full freedom of design for parts produced with selective laser melting. Some of SLM Solutions' employees rank among the pioneers of the selective laser melting technology. Using their knowledge and experience, the SLM Group was able to develop solutions to integrate selective laser melting systems into complex production processes. In this field we acquired a technological leadership position. We expect that the sector will enjoy significant growth over the coming years, and our top priority is to remain at the forefront of these developments as technology leader in the space."
Enormous addressable market
Today, the overall market for 3D printing possesses substantial growth potential, expected to increase from USD 2.204 billion in 2012 to USD 6 billion by 2017 and to USD 10.8 billion by 2021 worldwide according to industry expert Wohlers Associates. Metal based additive manufacturing accounted for only EUR 161 million or around 9% of the overall 3D printing market in 2012 but in the view of SLM Solutions offers particularly attractive growth prospects as metal based additive manufacturing is increasingly used for direct part manufacturing instead of prototyping.
SLM Solutions is a specialist in solutions for direct part production, the most direct application of additive manufacturing to production environments. This technology is especially attractive in markets where traditional manufacturing technologies limit the customer's flexibility as to functionality, geometry, complexity or weight of the parts produced. SLM Solutions' product portfolio consists of the selective laser melting systems SLM 125HL, SLM 280HL and SLM 500HL serving different customer requirements, especially in terms of size, speed and cost. The SLM 500HL, having been introduced in 2013 as the flagship product, lends itself to the serial production of larger parts in industrial environments.
Technological leadership position
SLM Solutions' selective laser melting systems are among the most productive in their respective classes providing an advantage for integration in industrial production environments. The systems are equipped with a powerful multi laser technology (including a hull-core imaging process) which increases build speeds significantly. Additional distinguishing features like the patented bidirectional loader movement and an automated powder recycling technology further optimize production costs, build rates and surface finish.
SLM Solutions' systems work with a wide range of materials, such as aluminium, cobalt-chromium stainless steel, tool steel, inconel, super alloys and titanium.
High barriers to entry into SLM Group's market
SLM Solutions is an industry pioneer with a multi-decade history of innovation, taking into account its predecessor companies. The long track record of innovation and its deep and interactive customer relationships put SLM Solutions in a strong position to benefit from the expected market growth. SLM Solutions' technological capabilities and substantial process know-how are critical to provide customers with superior solutions optimized to drive the integration of metal based 3D printing into their manufacturing processes.
Increasing adoption of proven technology
While young relative to metal machining and traditional manufacturing technologies, metal based additive manufacturing technologies have been developed since 1995 and today are well established and ready for volume production. A large and growing base of industrial customers is focussing on identifying an increasing number of applications for metal based additive manufacturing for direct part production. SLM Solutions has a diverse and growing customer base, which includes, among others, NASA, EADS, SpaceX, General Electric ("GE") in its global research, aviation and energy branches, Siemens, Alstom, BEGO Bremer Goldschlägerei and BMW. SLM Solutions' systems are deployed in some of the most demanding industries where mission-critical parameters such as density, durability, temperature or corrosion resistance, surface structure or bio-compatibility cannot be compromised.
Profitable and fast growing selective laser melting business segment
With more than 80 employees, the SLM Group generated EUR 21.6 million of revenue in the 2013 financial year (all figures IFRS) representing annualised growth of 35% since 2011. In 2013, the selective laser melting business segment already accounted for 77% of SLM Group's total revenues. The compound annual revenue growth rate in this business segment was 99% from 2011 to 2013 with the number of machines sold per year increasing from 7 to 28. The SLM Group generated an adjusted EBITDA margin of 11.5% for the most recent fiscal year. In the first three months of 2014, SLM Solutions recorded an order intake of 7 machines compared to 3 machines in the prior-year period. Hence, the first quarter – typically the weakest of the year – already provides a strong tailwind for the 2014 fiscal year.
Uwe Bögershausen, CFO of the SLM Group, commented: "Over the past three years, every year on average SLM Solutions has doubled its sales revenues from its selective laser melting business segment with a double digit operating margin. We aim to continue this profitable growth through a focus on three initiatives: the strengthening of our international sales force and service network, developing the business with consumables. i.e. metal powders, used by our selective laser melting systems, and continued focus on R&D." SLM Solutions' Management board intends to generate IPO proceeds for the company in the range of approximately EUR 75 million before issue costs to finance the growth strategy.
Dr. Rechlin sees SLM Solutions as excellently positioned to pursue the company's growth strategy: "Today, SLM Solutions is a technological leader in its sector. Going forward, we will leverage our position and place additional emphasis on targeting the 3D printing industry's fastest-growing market segments, where we have blue chip customers such as GE, Siemens and NASA relying on our expertise. An IPO is the logical next step in our company's life and will support the implementation of our targeted growth strategy."
Credit Suisse and Deutsche Bank have been appointed as Joint Global Coordinators and Joint Bookrunners. Co-Lead Managers are BHF-BANK and Canaccord Genuity. Equinet Bank will act as selling agent. SLM Solutions will publish further details on the planned IPO as appropriate.
Further information about SLM Solutions and a company presentation with detailed information about the business model, market and growth strategy can be downloaded from its website at: www.slm-solutions.com.
About the company:
SLM Solutions Group AG (in the course of incorporation), headquartered in Luebeck, Germany, is a leading provider of metal based additive manufacturing technology (also commonly referred to "3D printing"). SLM Solutions focuses on the development, assembly and sales of machines and integrated system solutions in the field of selective laser melting, vacuum and metal casting. SLM Solutions currently employs over 80 people in Germany and the USA. The products are used worldwide by customers in particular from the aerospace, energy, healthcare and automotive industries. SLM Solutions stands for technologically advanced, innovative and highly efficient integrated system solutions.
Disclaimer:
This announcement is not for publication or distribution, directly or indirectly, in or into the United States of America. This announcement is not an offer of securities for sale into the United States. The securities referred to herein have not been and will not be registered under the U.S. Securities Act of 1933, as amended, and may not be offered or sold in the United States, except pursuant to an applicable exemption from registration. No public offering of securities is being made in the United States.
No offer or sale of transferable securities is being, or will be, made to the public outside Germany and Luxembourg. Offers in Germany and Luxembourg will be made exclusively by means of and on the basis of a prospectus that will be published and will be available free of charge on SLM Solutions' website (http://www.slm-solutions.com) and at the Frankfurt offices of Credit Suisse and Deutsche Bank.