INTEGRATED
3D PRINTING
The Casting Industry Meets the Future with Integrated 3D Printing | JUNE 8, 2022 | By Ralf Frohwerk, Global Head of Business Development, SLM Solutions

For many years, the casting industry and its suppliers have been intensively dealing with the vast opportunities of metal-based 3D printing, also known as additive manufacturing (AM). Alongside this, it has also had to tackle the challenges that often accompany the adoption of modern technology. Despite those, the implementation and associated further automation of production can make a decisive contribution to more efficient and cost-optimized production.
In all industries, process flows are similar to achieve a successful implementation of SLM® technology. First and foremost, companies such as SLM Solutions are responsible for ensuring that the SLM® process is understandable to the industry. Delivering superb technology solutions that create trust is also of paramount importance. Adding to this is supporting the development of metal printed business cases to strengthen the market position of the SLM® user.
Figure 1: Selective Laser Melting technology on NXG XII 600 with 12 lasers
In terms of the casting industry, it must remain clear that the goal is not to replace casting. Instead, the sector must be made strong and competitive for the future. How? By using SLM® technology as an add-on in production.
A key question is: In which production segments can metal-based 3D printing be used sensibly and efficiently? That depends heavily on the cast product's design, functionality, and annual production demand. Expert knowledge of the 3D process, 3D compatible design, and the clear intention and corresponding budgets of the management are decisive for the successful implementation.
The requirements and opportunities of Additive Manufacturing
To offer a high-quality product for serial production, the entire process chain must be coordinated. Not only must this include robust, reliable machines, but the component must first be redesigned or developed for the AM process to utilize all the advantages of the technology.
Frech, renowned for manufacturing some of the highest quality die casting machines and tools available on the market today, implemented an AM process in its tools shop for optimized temperature management during the die-cast process. Tool inserts with conformal cooling channels were manufactured using the selective laser melting process, which in the case of die casting tools, contributes to shorter cooling times and thus to the reduction of the entire manufacturing process. By using internal lattice structures, a component's weight can be reduced and its stability increased. After a successful AM production, the equally important post-processing of the component takes place. At this stage, the part is detached from the build plate, and the support structures are removed. Then — if the component's function requires it — a final partial stress relief or heat treatment can be carried out.

Figure 2: Die casting mold insert with conformal cooling channels by Frech.

Figure 3: Selective Laser Melting system, SLM®500
Is Additive Manufacturing worthwhile?
Depending on the application, AM can lead to numerous commercial and technical advantages while shortening the time to market. These advantages enable companies to strengthen their market position while increasing revenue, profit, and shareholder value.
Today, the die casting industry focuses on SLM® technology, especially for prototypes and small to medium-sized batches. This is because the manufacturing of cast tools is a major cost factor in this area. Therefore, using SLM® technology to print the parts directly without tooling can reduce development times. Various aluminium alloys such as AlSi10Mg, AlSi7Mg, and AlSi9Cu3 are already available in the specified powder quality for the SLM® process. It should be noted that the material properties of a 3D printed component are generally better than those of a die-cast component due to the SLM® process creating parts of a significantly higher density. In cases where the 3D printed parts are only used in the prototype phase, but die casting is used for serial production, the industry requires equal material properties in printed vs the die-casted parts. In this case, modified AM process parameters can be used to reach similar material properties.
Additionally, new and dedicated AM aluminium alloys are reaching the market. With these come the opportunity for new products, e.g., high-temperature resistant alloys for motorsport applications.
Customer use cases
Well-known industrial customers show how successful the technology is in series production today. Of course, there are good reasons for this, both qualitative and economical.
For Bugatti, Selective Laser Melting technology enables the high-performance car manufacturer to implement consistently lightweight design, allowing the functionality of the vehicles to be continuously optimized. Bugatti uses AM to produce motor brackets manufactured in AlSi10Mg with integrated cooling channels. This bracket acts as an active heat shield and has been installed in the Bugatti Chiron since serial production started. Adding to its AM-built portfolio, the company also developed a brake calliper and spoiler bracket manufactured with a topologically optimized design.
Hirschvogel, a large and international automotive supplier, also shows how AM can perform successfully. Within a design study for the manufacture of a car steering knuckle, SLM® technology saved 40 percent in material compared with conventional production.

Figure 4-5: Motor bracket from Bugatti (left) and the company Hirschvogel car steering knuckle (right)

Figure 6: Design study at Bugatti: Front axle differential housing before and after bionic optimization

Figure 7: Eight Bugatti W16 cylinder head covers. It was built in just one construction job on an SLM®800 in 4.5 days, each with a hood measuring 285mm wide and 65mm thick, growing 735mm tall.
One company that has already tested the productivity of the NXG XII 600 is the advanced powertrain engineering department at Porsche. It focuses on large powertrain applications such as E-drive housings, cylinder blocks, and cylinder heads. In a proof of concept with the NXG XII 600, Porsche successfully printed an E-drive housing using innovative AM Design. Porsche sets high-quality demands on the part: A permanent magnet motor with 800-volt operating voltage delivers up to 205 kW (280 hp). The downstream two-stage transmission is integrated with the same housing and drives the wheels with up to 2,100 Newton meters of torque. This highly integrated approach was designed for use on the front axle of a sports car.
In the case of Porsche, all the advantages of AM were implemented in this housing. This includes topology optimization with lattice structures to reduce the weight, functional integration of cooling channels, higher stiffness, decreased assembly time by integrating parts, and improved part quality.

Figure 8: Porsche E-Drive Housing
Cost efficiency through automation
The metal-based AM process offers the possibility to realize lean production with high efficiency and batch size 1.
As in the entire manufacturing industry, process automation is essential: It increases the acceptance of the technology and creates cost advantages. For example, with the powder supply unit PSV, SLM Solutions offers a solution that eliminates manual powder replenishment. Here, powder handling is fully automatic and carried out via vacuum technology. Contactless powder handling also achieves a high degree of work safety and deeply benefits the production floor.
The Selective Laser Melting System SLM®800 also stands for the automation of the technology. The fully automatic SLM®HUB unpacking station of the SLM®800 integrates numerous functions like an automated transport of build cylinders with dedicated locations for pre-heating and cooling in an inert atmosphere. The SLM®HUB also removes manual powder handling from the production process. It does this using a centralized powder supply and powder removal chamber that rotates and vibrates the finished substrate plate. This action automatically separates all unused powder from the finished part and recycles it back to the sieving station for reuse in future builds. All machines connected to the SLM®HUB are fed metal powder through vacuum technology from the central powder station creating a completely closed-loop powder management system. These automation and process engineering developments promote the achievement of economic goals.

Figure 9: Selective Laser Melting system, SLM®800
Safety first
A challenging aspect for new customers is the certification process and the integration of SLM® technology into existing production lines. They apply to the casting industry as well as to others. SLM Solutions supports each company with its profound experience and intelligent software solutions. For certification, all quality-relevant process parameters are analyzed with the help of a Process Risk Analysis & Mistake-Proofing (FMEA), and the values and their tolerances for high functionality in the component are determined. With the help of the existing quality assurance technology in SLM® machines, all relevant values are displayed and controlled (monitoring & controlling). With Melt Pool Monitoring (MPM), SLM Solutions offers a tool for visualizing the melt pool in the SLM® process. The system determines the thermal radiation from the melt on the powder bed. SLM Solutions also offers Laser Power Monitoring (LPM). This monitoring system permanently documents the target and the actual laser output during production. Adding to this is the Layer Control System (LCS), a testing and documentation system developed explicitly for the SLM® process that monitors the powder bed and detects possible irregularities in the coating. These quality assurance tools ensure a low-defect production of high-quality components.
What's next? A new level, a new generation, a step forward.
SLM® technology was developed in Germany by SLM Solutions, among others. For this reason, the technology is well known here. Since a great wealth of experience has been cultivated in Europe in the last 15 years, the willingness to use the technology is relatively large and continues to grow. There is much to suggest that the technology will also prevail in the casting industry as appropriate Selective Laser Melting solutions and systems already exist.
The NXG Xll 600 — designed for high-volume, serial productions and built on four core principles: Productivity, size, reliability, and safety — is a revolution in industrial manufacturing. The arrival of this machine boasting 12 lasers with 1000 Watts is already positively changing supply chains and standard inventory models. The integration of this machine into traditional production lines is not just a breakthrough for additive manufacturing but the start of a new era in manufacturing.
Now, more than ever, serial production with additive manufacturing is here. Implementing the NXG XII 600 into your supply chain can increase productivity while significantly reducing the cost per part, potentially taking your manufacturing operations to a new level.

Figure 10: The NXG XII 600
A message from the author
Right now, SLM® technology is moving from the futuristic cusp and is headed to a place where it enables mainstream manufacturing with new ideas and increased financial benefits. By integrating AM technology into the casting industry, incredible solutions can be produced that, in many cases, present innovative fixes to historical challenges. Suppose you are looking for ways to discover that potential. In that case, I am eager to support you on your journey in evaluating, cooperating, and developing new business cases with all there is to offer from Additive Manufacturing.

Figure 11: Ralf Frohwerk besides six parts printed in AlSi10Mg. These were built in nine hours (1,5h each part)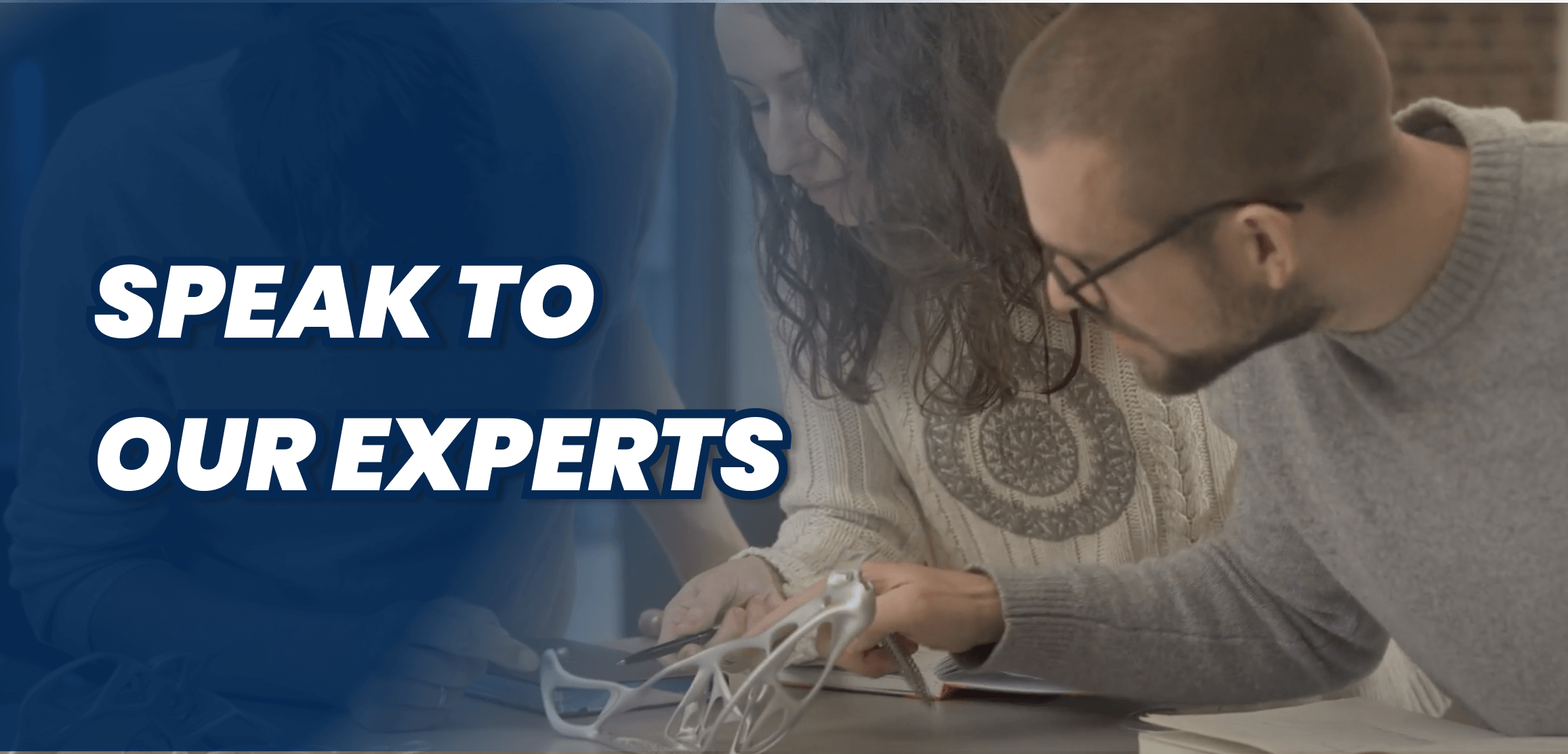 Are you interested in learning more from our industry leading experts? Get in touch below and learn how we're pushing the limit in additive manufacturing.