SLM®800
The SLM®800 features an extended z-axis for large-scale part production. The ability to have multiple machines connected via the SLM® HUB opens new possibilities for large-scale industrial metal additive manufacturing.
500 x 280 x 850 mm build envelope
Multi-laser (quad)
Permanent filter
Multi-machine set-up
SLM®HUB automated cylinder handling and powder management
The SLM®800 efficiently builds large components and opens new production possibilities. All SLM Solutions' patented innovations have been scaled up and partnered with features such as a metal recoating brush, permanent filter module and centralized powder supply to enable successful large builds.
The SLM®HUB and optional Build Cylinder Magazine create an automated, multi-machine production manufacturing cell. The result: A fully automated handling station which maximizes machine uptime and offers a no-contact powder solution for production processes.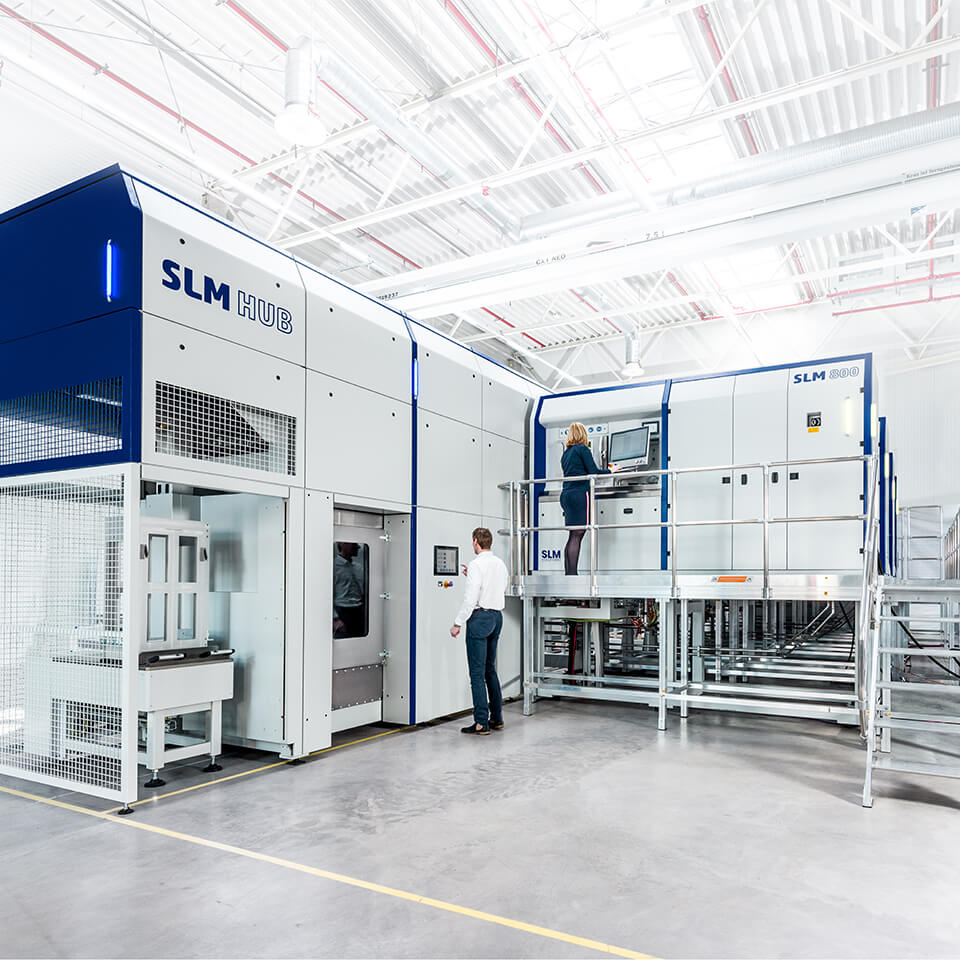 Ready for Serial Production
The SLM®800 utilizes our proven quad-laser technology with an extended z-axis for larger production builds. Vertically extending the build envelope reduces exposure per layer and yields higher part quality, in particular, to flatness and reduced internal material stress. Vertical orientations also need less supports reducing material usage and post-processing.
Permanent Filter Improves Uptime and Reduces Costs
The permanent filter module traps soot and condensate particles from the process gas stream in a sintered plate filter. The filter is purged with gas, the waste material coated with an inhibitor and dropped in a bin for dry disposal, while clean gas returns to the process chamber. This helps stabilize gas flow and ensures part quality throughout long builds without interruption. The elimination of consumable filter cartridges increases safety while improving machine uptime and reducing costs.
Automatic Powder Handling
Each SLM®800 features an integrated powder tank to supply the machine with a direct source of material. The additional central powder supply unit (CPS) features two 220l tanks, one fixed for delivery to the machine and one portable for powder refill. Sieves are located both in between the two CPS tanks and on the machine directly before use to ensure powder quality throughout the process. This leads to an increased machine uptime, high safety and material quality.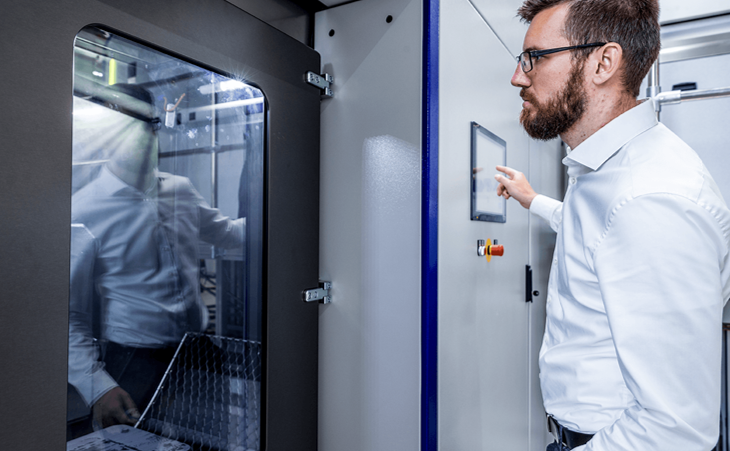 Automated Build Cylinder Handling
The SLM®HUB utilizes a linear axis to drive build cylinders internally between four integrated stations and directly into or out of the SLM®800 machine. The four stations allows an automated de-packing of the part out of the cylinder under an inert gas atmosphere to maintain powder quality. All recovered powder is returned to the powder supply where it will be used in the next build.
Pulling Station - Full cylinders are pulled from the machine and transported to the depowder station.
Depowder Station - Build cylinders are turned over to pour out loose powder. Once loose powder is removed the cylinder is vibrated to remove and powder that might be trapped within the part.
Merge Station - Operators can insert blank build plates into the HUB, or remove powder free parts ready for post processing.
Parking Station - Build plates are heated up and full build cylinders are cooled down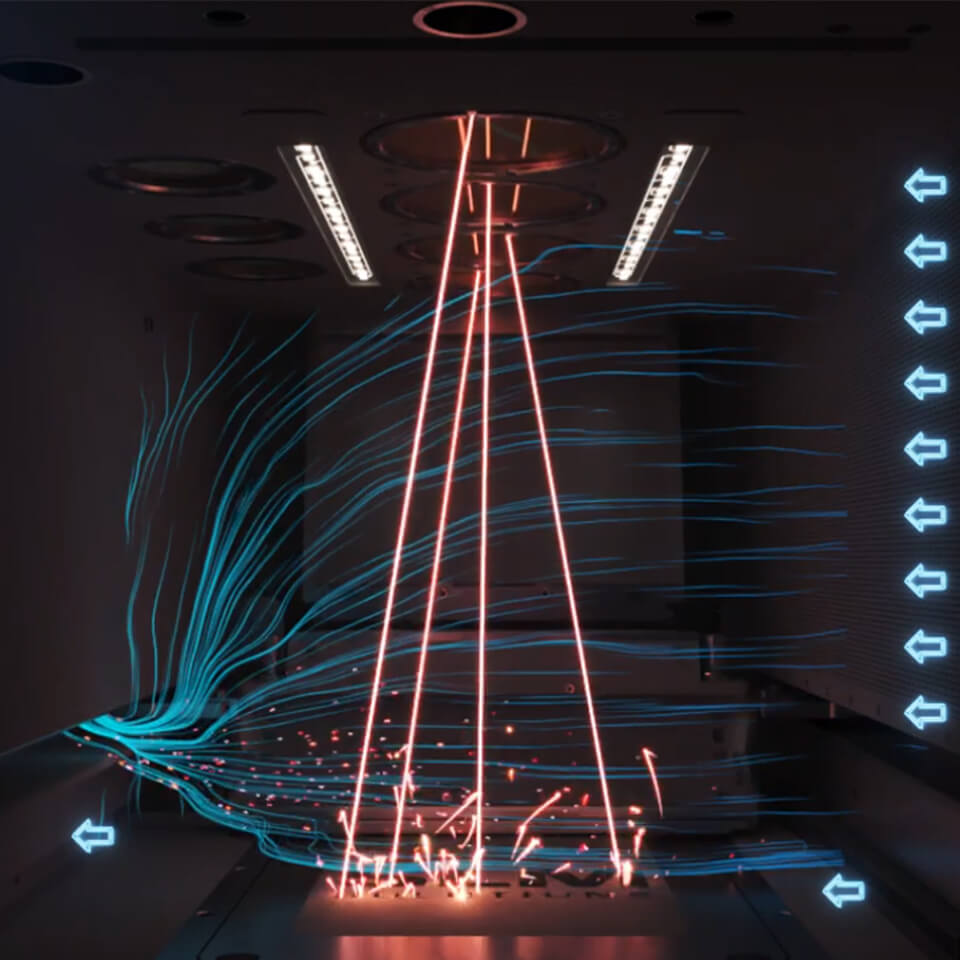 Patented Gas Flow
SLM Solutions patented laminar gas flow ensures a maximum removal of condensate in the build chamber. A clean, soot-free build chamber means the laser has a clear path to the powder bed resulting in high-quality parts the total height of the build.
SUCCESS STORY
Machine: SLM®800
Material: Titanium
Main Fitting of a Bizjet from Safran
In a joint project, Safran Landing Systems and SLM Solutions tested Selective Laser Melting to produce a component of a nose landing gear for a bizjet. A world first for a part of this size. The objective of the project is to demonstrate the feasibility to produce a main fitting by Selective Laser Melting process. The component was therefore redesigned for metal-based additive manufacturing allowing time saving in the whole process, and significant weight reduction about 15% of the component.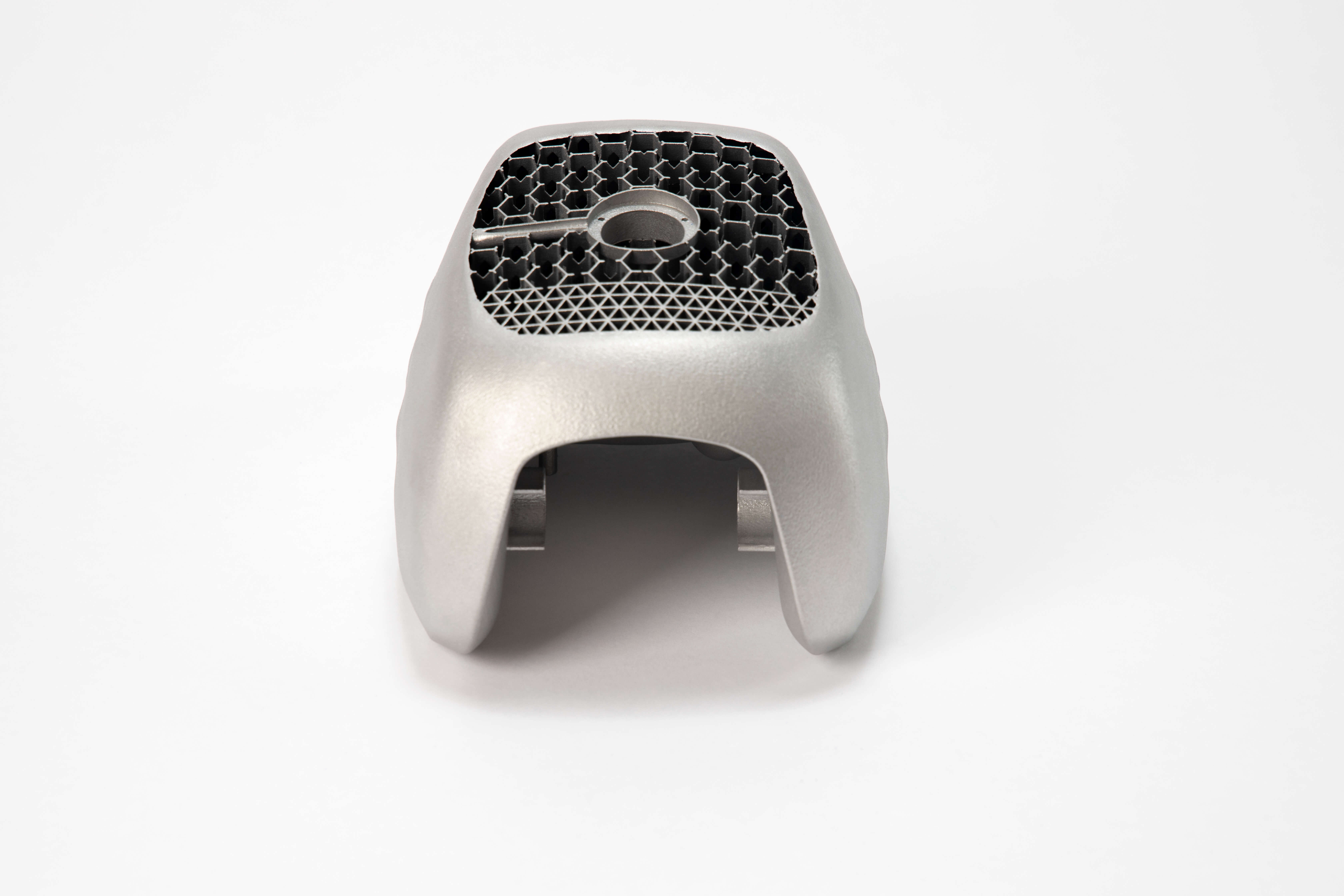 Fuel Tank - VIBA Honda® Monkey
Machine: SLM®800
Material: AlSi10Mg
This 3D printed motor bike fuel tank is an especially innovative component, as it was 3D printed in a single piece and demonstrates the advantages of working with additive manufacturing instead of more traditional processes. The part, which weighs only 3.3 kg, was 3D printed using the SLM®800 and integrates an internal honeycomb structure that stops fuel from sloshing while the motorbike is in motion.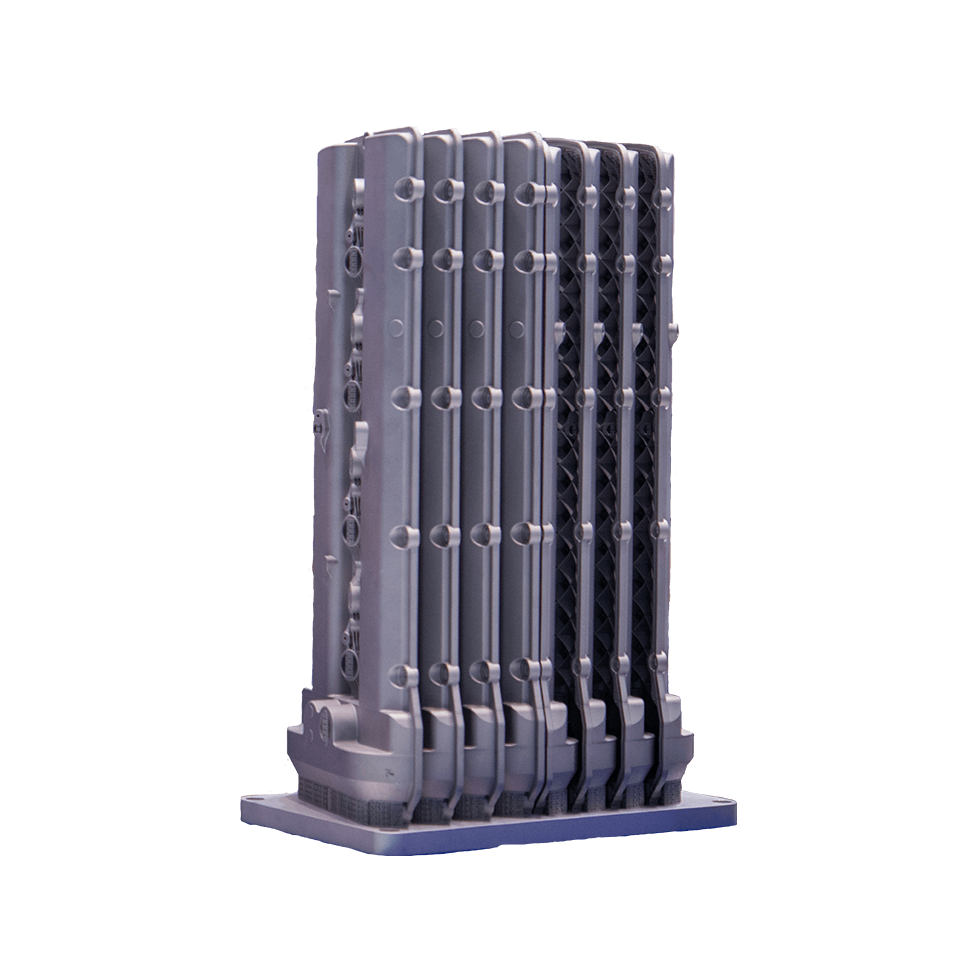 Cam Covers - Bugatti® Chiron
Material: AlSi10Mg
Layer Thickness: 60 μm
Build Time: 4d 8h (Maximized Build Chamber, 8 Units)
The SLM®800 reaches peak performance when paired with the SLM®HUB, a fully-automated handling station. This integrated solution features automated transport of build cylinders with dedicated locations for pre-heating and cooling in an inert atmosphere. The SLM®HUB also removes manual powder handling from the production process with a centralized powder supply and a powder removal chamber that rotates and vibrates the finished substrate plate to automatically separate unused powder from the finished part, recycling it back to the sieving station for reuse in future builds. All machines connected to the SLM®HUB are fed metal powder through vacuum technology from the central powder station creating a completely closed-loop powder management system under an inert gas atmosphere.
Up to five SLM®800 systems can be modularly connected to and operated from a single SLM®HUB. With a build cylinder magazine (BCM) multiple build cylinders can be handled in parallel to optimize machine uptime and scale to full production.
Provides a consistent powder bed over thousands of layers and beneficial for efficient job changeover. Brush durability ensures stable recoating while enabling error correction during the build.
Haynes 25 or IN718, tested and approved for use with any material
Testing shows brush stability at over 100,000 layers
In the event of a collision with an extrusion up to 3mm from the powder bed, the bristles bend and do not break.
Allows for correction of a build defect without damage to either recoater or part
Developed to simplify cleaning, maintenance and installation work on the SLM®Recoater.
Stable mount for maintenance
Safe handling
Station features 360° rotation for full maintenance access
Drip tray included for easy residual powder collection
Safe storage of recoating mechanisms
Station Dimensions: 730mm x 310mm x 250mm
Tool for visualizing thermal emission of melt pool in the SLM®process. The system records the thermal radiation produced from the melt during the entire production process.
Sequential output of thermal emission plot images of individual layers
Detect irregularities and defects in parts
Log and document build jobs in MPM-Files
Permanent on-axis laser power monitoring system that measures and illustrates nominal and actual power during the ongoing manufacturing process.
Active warnings, highlighting spots with critical laser power deviation
Documentation of the laser power for each scan vector over the entire build job
Tool to level recoater height and adjust overlap area. Enables reproducible adjustments to the recoating lip height, independent from operator, within 1 μm. Resulting in recoating and the laser exposure level consistency for each build job.
SLM®800 Technical Specifications
Build Envelope (L x W x H):

500 x 280 x 850 mm
19.7 x 11 x 33.5 in
(reduced by substrate plate thickness)

3D Optics Configuration:

Quad (4x 700 W) IPG fiber laser

Build Rate:

up to 171 cm³/h (Quad 700 W)

Variable Layer Thickness:

20 µm - 90 µm

Minimum Feature Size:

150 µm

Beam Focus Diameter:

80 µm - 115 µm

Maximum Scan Speed:

10 m/s

Average Inert Gas Consumption in Process:

5-7 l/min (argon)

Average Inert Gas Consumption Purging:

70 l/min (argon)

E-Connection / Power Input:

400 Volt 3NPE, 63 A, 50/60 Hz, 8-10 kW

Compressed Air Requirement / Consumption:

ISO 8573-1:2010 [1:4:1], 50 l/min @ 6 bar

Dimensions (L x W x H):

Dependent on setup

Weight:

Dependent on setup