SLM®125
Compact, accurate high power printing for low powder volume applications. The smallest machine in the SLM Solutions' lineup, the SLM®125 is ideal for a variety of users, from rapid prototyping and low volume manufacturing to serial production and research work.
125 x 125 x 125 mm build envelope
Single laser
Multi-material
High Power Laser in a Compact Footprint
Offering a larger build plate and higher-powered laser than other similar-sized machines, the SLM®125 is a flexible manufacturing system to fit users' specific needs. Metal additive manufacturing beginners can develop processes that scale to larger SLM® systems, research institutes benefit from a material development toolkit and production facilities can run prototype, small series and qualified production components. All selective laser melting powders, including reactive materials, can be processed on the SLM®125.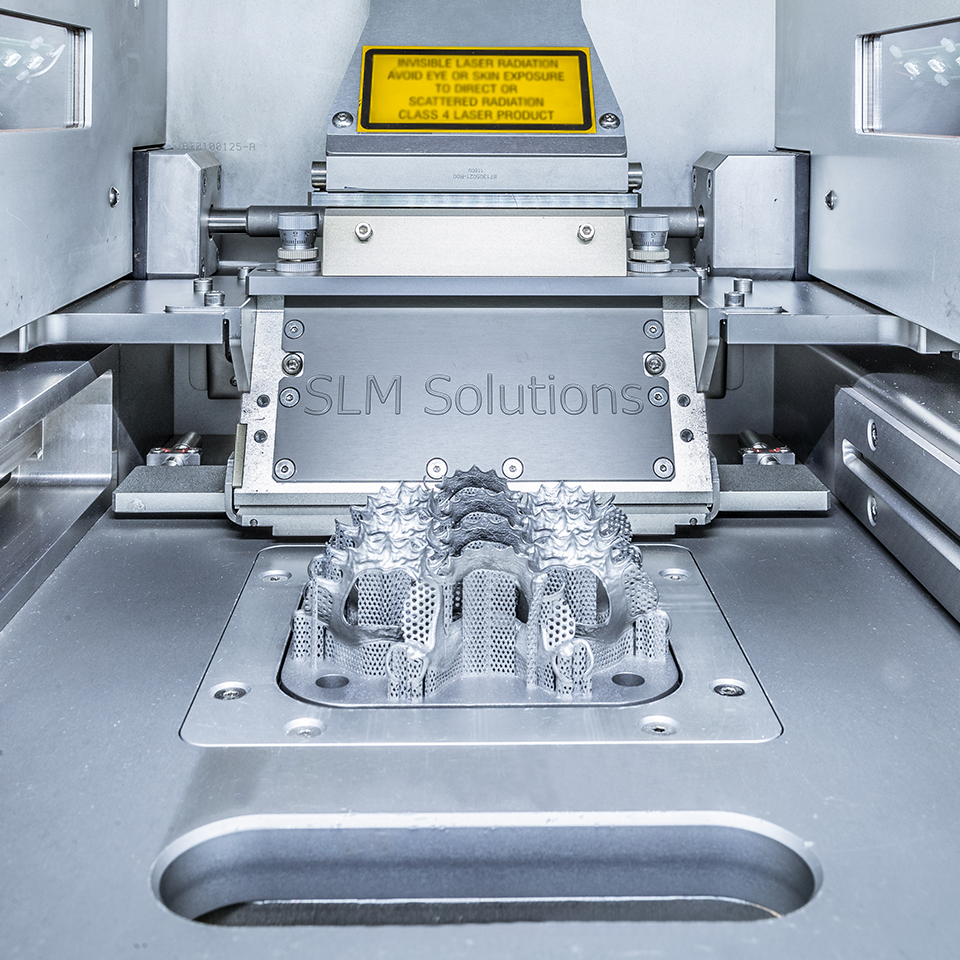 Compact Powerful Machine for Metal Part Production
The smallest machine in the SLM Solutions' lineup includes many of the top-quality features of our larger platforms in a compact footprint. The substrate plate can pre-heated to up to 200°C and the standard 400W fiber laser is the highest power offered on small machines to replicate production settings with up to 80% less metal powder than other systems.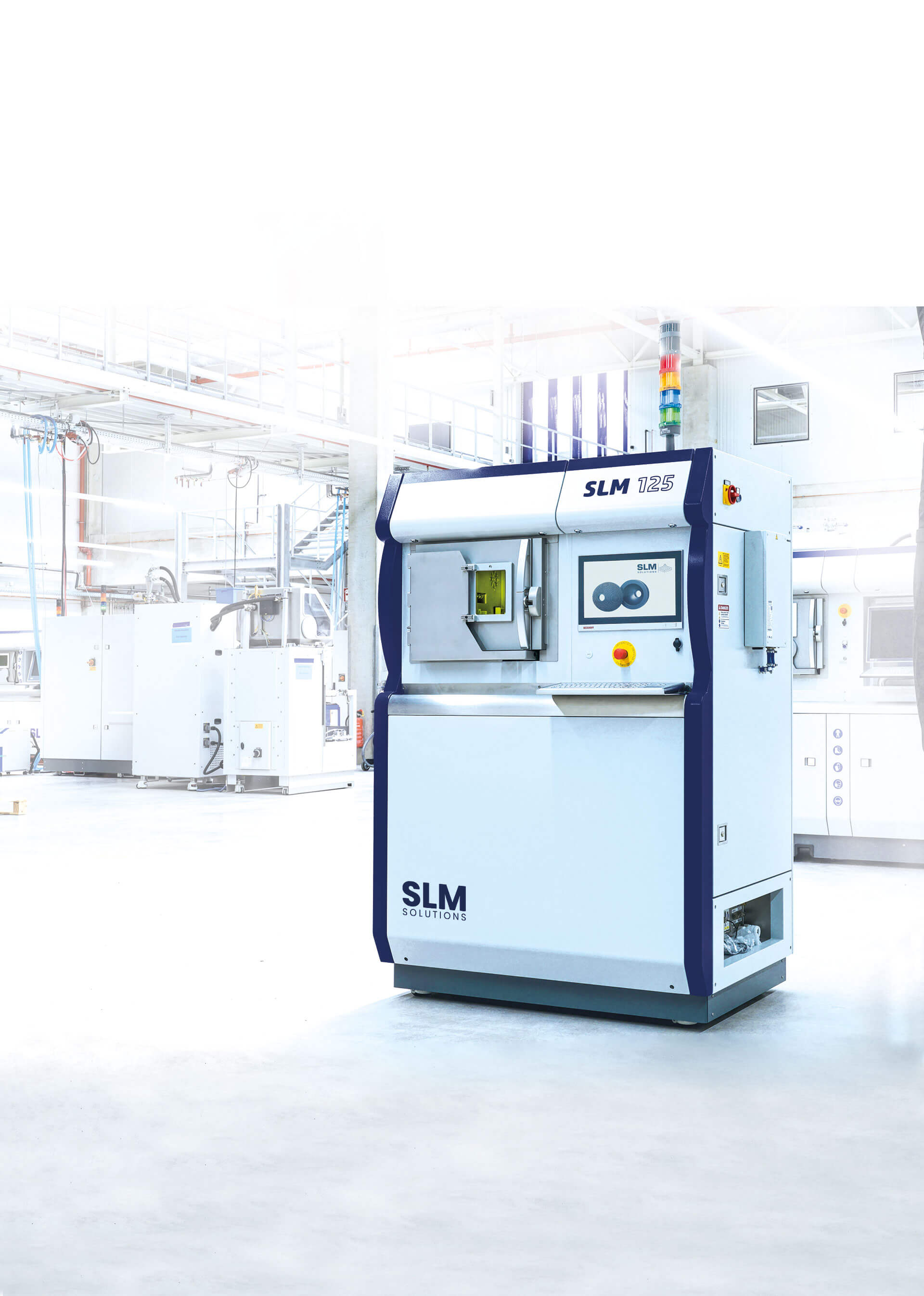 Efficient, Methodical Parameter Development Software
SLM Solutions' material development module is an easy, intuitive software tool for a systematic analysis of parameter variation. Users gain the power of developing in-house material know-how and utilizing custom process settings. Automated parameter alignment through rule definition and the replication and positioning of parts on the build plate create time savings in alloy development and parameter optimization.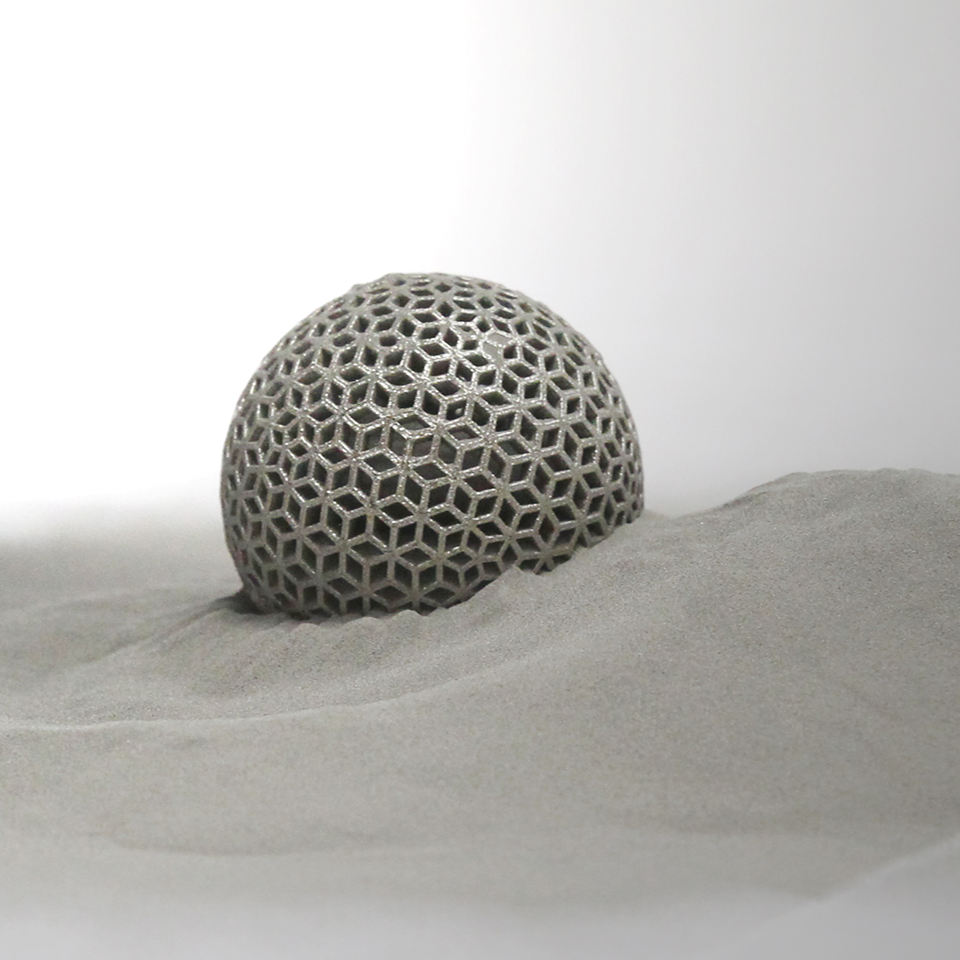 High-Quality Metal Powders and Reliable Powder Management Process
Stainless steel, cobalt-chrome, nickel alloys, aluminum, and titanium, to name a few, can all be processed in top quality on all SLM Solutions selective laser melting systems. Both reactive and non-reactive metals can be processed in the standard SLM®125 configuration. Thanks to the machine's compact design with a reduced number of powder-transporting components, materials can be changed quickly and easily.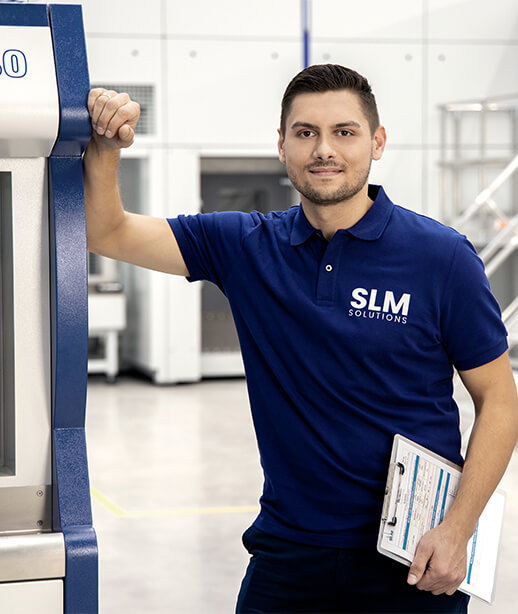 Customer-Oriented System for Additive Manufacturing Success
The SLM®125 can be adapted to customers' requirements and allows the user to scale their selective laser melting strategy. A variety of components and options make the SLM®125 an optimal system for all users, from research institutes working on new materials and process development to first-time users looking to gain best-in-class metal AM experience, as well as prototype manufacturers or, of course, those running qualified series production processes.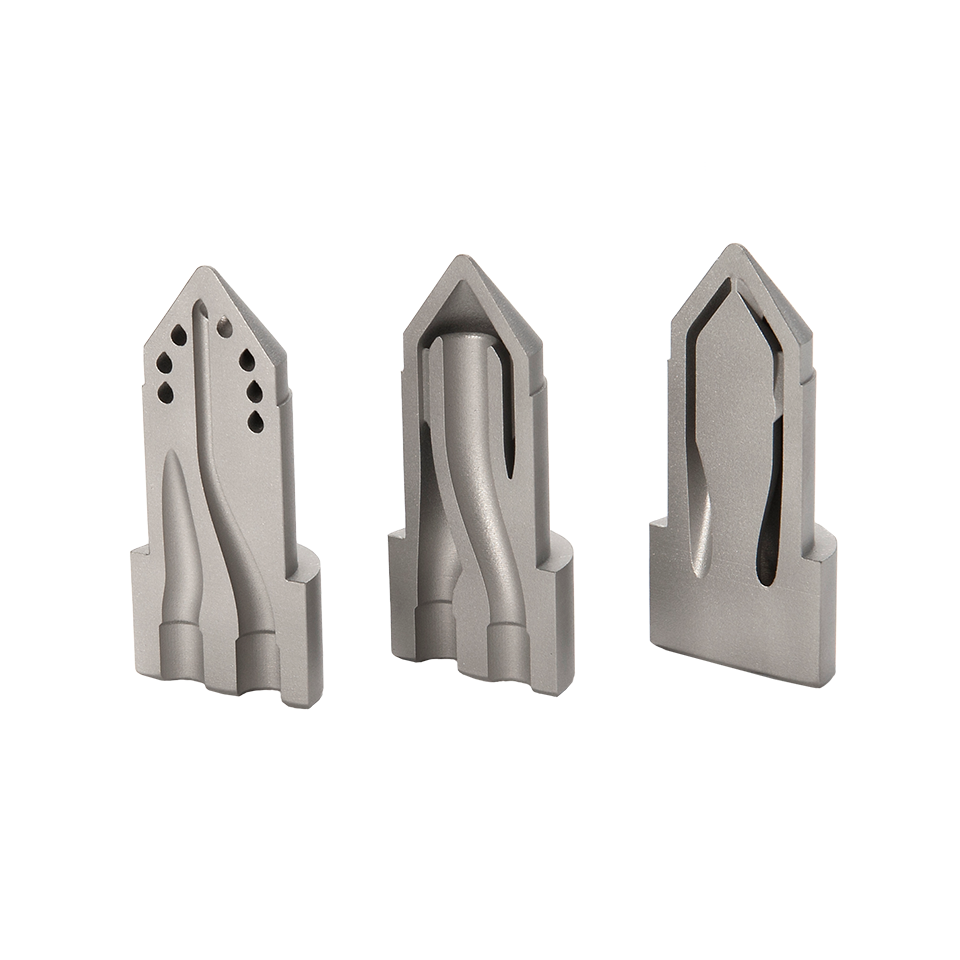 Tooling Inserts with Conformal Cooling
Material: Tool Steel 1.2709
Build Time: 2h 21m per Unit
These tooling inserts with conformal cooling from ABB combine increased production quality and process optimization with reduced cooling times and cycle times. SLM® technology achieves less scrap defective parts due to equal surface cooling. Six different channel profiles were designed for testing of optimal flow and thermal conductivity.
Patient-Matched Maxillofacial Implants
Machine: SLM®125
Material: Ti Gd. II & Ti6Al4V
Layer Thickness: 30µm
These maxillofacial implants are designed and produced specific to the patient's anatomy, on the basis of the patient's CT-scan images. They enable a more efficient surgical procedure, achieving functional and cosmetic restoration. The production of patient-matched and custom CMF implants by Selective Laser Melting is more efficient and more economical compared to traditional CNC-milling techniques.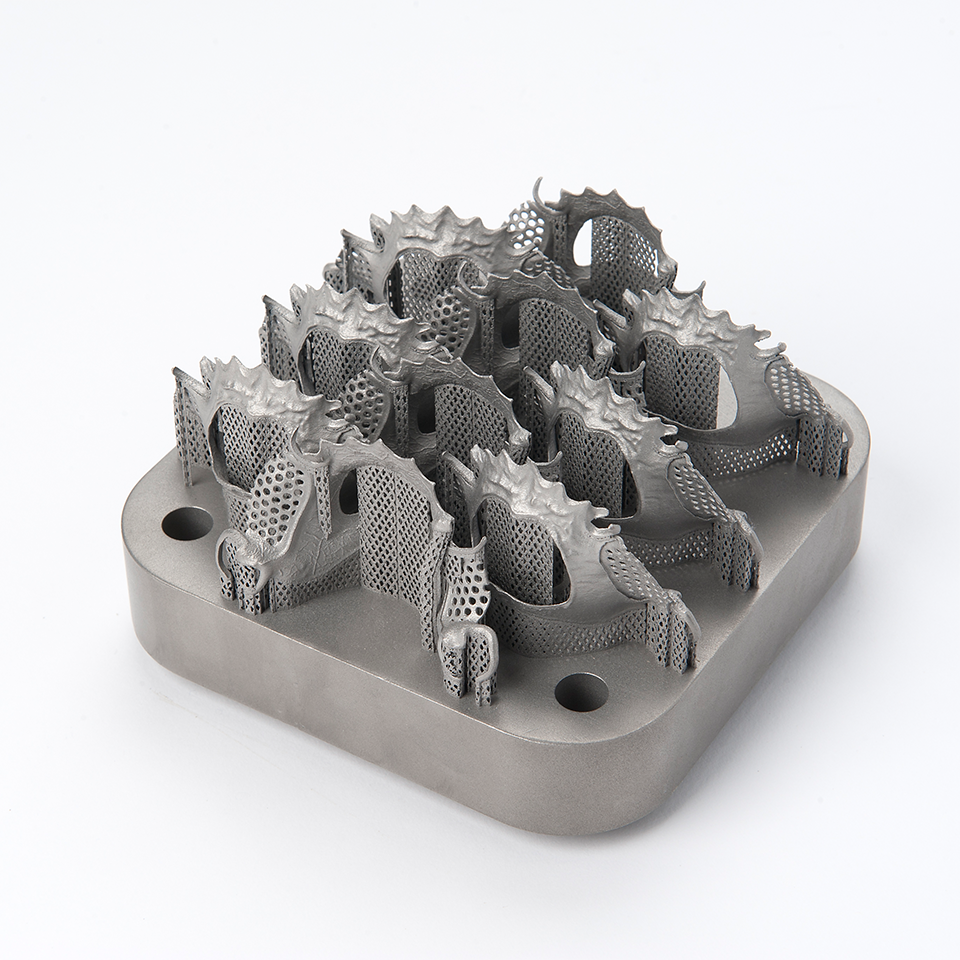 Dental Prosthetics Components
Material: CoCr SLM® MediDent (ISO 22674)
Layer Thickness: 30 µm
Dental crowns and bridges for PFM prostheses, as well as removable partial denture frameworks for acrylic prostheses are common dental applications of selective laser melting. These dental protheses are printed to patient-specific designs, however multiple patients' customized geometries can be printed simultaneously during one SLM® build. Selective Laser Melting creates less material waste and is more economical compared to traditional casting and milling techniques.
The PSM unit sieves and separates metal powder under inert gas conditions. Metal powder collected from overflow cans in the selective laser melting system is manually supplied to the sieving station. The sieved GO grain and oversized powder are collected in separate cans underneath the system for further use.
The sieving process runs automatically without influence on the running build process, reducing ancillary times. To support and speed up the sieving procedure, an ultrasonic cleaning device is added.
PSM combined with SLM®125 creates a closed-loop powder handling system, enabling the processing of both reactive and non-reactive metals.
Tool for visualizing thermal emission of the melt pool in the SLM® process. The system records the thermal radiation produced from the melt during the entire production process.
Sequential output of thermal emission plot images of individual layers
Detect irregularities and defects in parts
Log and document build jobs in MPM-Files
Permanent on-axis laser power monitoring system that measures and illustrates nominal and actual power during the ongoing manufacturing process.
Active warnings, highlighting spots with critical laser power deviation
Documentation of the laser power for each scan vector over the entire build job
SLM®125 Technical Specifications
Build Envelope (L x W x H):

125 x 125 x 125 mm
4.9 x 4.9 x 4.9 in
(reduced by substrate plate thickness)

Build Volume Reduction (L x W x H):

50 x 50 x 50 mm
2 x 2 x 2 in
(reduced by substrate plate thickness)

3D Optics Configuration:

Single (1x 400 W) IPG fiber laser

Build Rate:

up to 25 cm³/h

Variable Layer Thickness:

20 µm - 75 µm, 1 µm increments

Minimum Feature Size:

140 µm

Beam Focus Diameter:

70 µm - 100 µm

Maximum Scan Speed:

10 m/s

Average Inert Gas Consumption in Process:

0,6 l/min (argon)

Average Inert Gas Consumption Purging:

70 l/min (argon)

E-Connection / Power Input:

400 Volt 3NPE, 32 A, 50/60 Hz, 3 kW

Compressed Air Requirement / Consumption:

ISO 8573-1:2010 [1:4:1] 7 bar

Dimensions (L x W x H):

1400 mm x 900 mm x 2460 mm

Weight:

700 kg dry
750 kg with powder