SLM Solutions: Q1 new order intake provides tailwind for FY 2014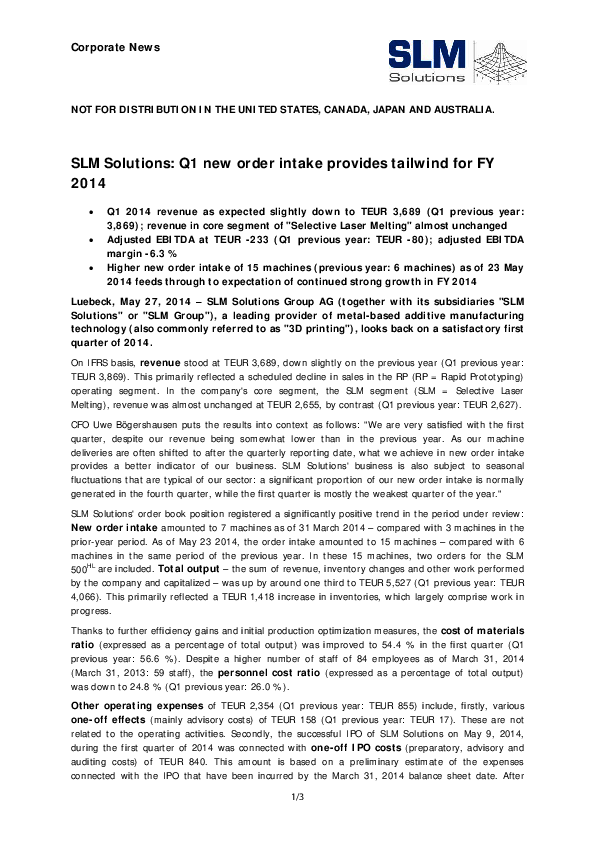 Luebeck, Germany, May 27, 2014 – SLM Solutions Group AG (together with its subsidiaries "SLM Solutions" or "SLM Group"), a leading provider of metal-based additive manufacturing technology (also commonly referred to as "3D printing"), looks back on a satisfactory first quarter of 2014.
Q1 2014 revenue as expected slightly down to TEUR 3,689 (Q1 previous year: 3,869); revenue in core segment of "Selective Laser Melting" almost unchanged

Adjusted EBITDA at TEUR -233 (Q1 previous year: TEUR -80); adjusted EBITDA margin -6.3 %

Higher new order intake of 15 machines (previous year: 6 machines) as of 23 May 2014 feeds through to expectation of continued strong growth in FY 2014
On IFRS basis, **revenue** stood at TEUR 3,689, down slightly on the previous year (Q1 previous year: TEUR 3,869). This primarily reflected a scheduled decline in sales in the RP (RP = Rapid Prototyping) operating segment. In the company's core segment, the SLM segment (SLM = Selective Laser Melting), revenue was almost unchanged at TEUR 2,655, by contrast (Q1 previous year: TEUR 2,627).
CFO Uwe Bögershausen puts the results into context as follows: "We are very satisfied with the first quarter, despite our revenue being somewhat lower than in the previous year. As our machine deliveries are often shifted to after the quarterly reporting date, what we achieve in new order intake provides a better indicator of our business. SLM Solutions' business is also subject to seasonal fluctuations that are typical of our sector: a significant proportion of our new order intake is normally generated in the fourth quarter, while the first quarter is mostly the weakest quarter of the year."
SLM Solutions' order book position registered a significantly positive trend in the period under review: **New order intake** amounted to 7 machines as of 31 March 2014 – compared with 3 machines in the prior-year period. As of May 23 2014, the order intake amounted to 15 machines – compared with 6 machines in the same period of the previous year. In these 15 machines, two orders for the SLM 500HL are included. **Total output** – the sum of revenue, inventory changes and other work performed by the company and capitalized – was up by around one third to TEUR 5,527 (Q1 previous year: TEUR 4,066). This primarily reflected a TEUR 1,418 increase in inventories, which largely comprise work in progress.
Thanks to further efficiency gains and initial production optimization measures, the **cost of materials ratio** (expressed as a percentage of total output) was improved to 54.4 % in the first quarter (Q1 previous year: 56.6 %). Despite a higher number of staff of 84 employees as of March 31, 2014 (March 31, 2013: 59 staff), the **personnel cost ratio** (expressed as a percentage of total output) was down to 24.8 % (Q1 previous year: 26.0 %).
**Other operating expenses** of TEUR 2,354 (Q1 previous year: TEUR 855) include, firstly, various **one-off effects** (mainly advisory costs) of TEUR 158 (Q1 previous year: TEUR 17). These are not related to the operating activities. Secondly, the successful IPO of SLM Solutions on May 9, 2014, during the first quarter of 2014 was connected with **one-off IPO costs** (preparatory, advisory and auditing costs) of TEUR 840. This amount is based on a preliminary estimate of the expenses connected with the IPO that have been incurred by the March 31, 2014 balance sheet date. After adjusting for all one-off expenses, the company generated **adjusted EBITDA** of TEUR -233 (Q1 previous year: TEUR -80), representing an adjusted EBITDA margin (expressed as a percentage of revenue) of -6.3 % (Q1 previous year: -2.1 %).
The **net result for the period** reflected a loss of TEUR -1,401 (Q1 previous year: TEUR -513) – corresponding to **earnings per share** of EUR -0.10 on the basis of the share capital consisting of 13,814,200 shares prior to the IPO. The equity ratio registered a marked increase from 41.7 % to 58.0 % as of the balance sheet date.
CEO Dr. Markus Rechlin comments on the interim results: "We are on track. Given a decidedly positive new order intake, the first quarter already generates some tailwind for our business. This trend continued during April and May, where we saw a further increase in new order intake. We will use the IPO issue proceeds to push further ahead with our growth strategy. In this context, we will concentrate on three strategic initiatives of expanding our international sales and service network, growing our business with consumables for our SLM machines, and a further focus on research and development."
SLM Solutions Group AG operates in a pronounced growth market: sector experts at Wohlers Associates expect the overall global 3-D market to grow from USD 2 billion in 2012 to almost USD 11 billion by 2021. Although it is still small at the moment, the company sees the market segment for metal-based 3D printing offering particularly attractive growth opportunities. SLM Solutions believes that the market for metal-based 3D printing is at an inflection point, as a rising number of internationally operating industrial companies are making the transition to producing components using additive manufacturing technology.
CFO Uwe Bögershausen comments on prospects for the 2014 fiscal year: "The 2014 fiscal year results will be burdened by one-off costs arising from the IPO, the IPO bonus and the long-term employee loyalty scheme. Due to our good order book position, we are nevertheless assuming significant year- on-year growth in revenue and adjusted EBITDA."
The report by SLM Solutions Group AG on the first quarter 2014 is available from today on the company's website at www.slm-solutions.com within the Investor Relations area.
About the company
SLM Solutions Group AG, headquartered in Luebeck, Germany, is a leading provider of metal based additive manufacturing technology (also commonly referred to as "3D printing"). SLM Solutions focuses on the development, assembly and sales of machines and integrated system solutions in the field of selective laser melting, vacuum and metal casting. SLM Solutions currently employs over 80 people in Germany and the USA. The products are used worldwide by customers in particular from the aerospace, energy, healthcare and automotive industries. SLM Solutions stands for technologically advanced, innovative and highly efficient integrated system solutions.
Disclaimer
This announcement is not for publication or distribution, directly or indirectly, in or into the United States of America. This announcement is not an offer of securities for sale into the United States. The securities referred to herein have not been and will not be registered under the U.S. Securities Act of 1933, as amended, and may not be offered or sold in the United States, except pursuant to an applicable exemption from registration. No public offering of securities is being made in the United States.
This document is only being distributed to and is only directed at (i) persons who are qualified investors within the meaning of the Financial Services and Markets Act 2000 (as amended) and any relevant implementing measures and/or are outside the United Kingdom or (ii) persons who have professional experience in matters relating to investments who fall within the definition of "investment professionals" falling within Article 19(5) of the Financial Services and Markets Act 2000 (Financial Promotion) Order 2005 (as amended) (the "Order") or (iii) high net worth companies, and other persons to whom it may lawfully be communicated, falling within Article 49(2)(a) to (d) of the Order (all such persons in (i), (ii) and (iii) above together being referred to as "relevant persons"). The securities are only available to, and any invitation, offer or agreement to subscribe for, purchase or otherwise acquire such securities will be engaged in only with, relevant persons. Any person who is not a relevant person should not act or rely on this document or any of its contents.